Living Off-Grid In Wyoming
Mar
11
2021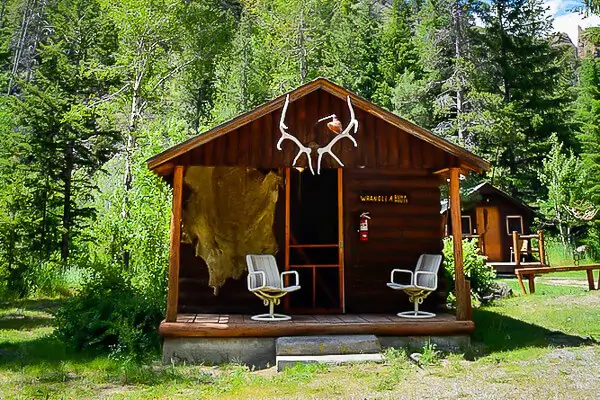 Historic Absaroka Mountain Lodge | Image Source
When you envision living off the grid in Wyoming, what comes to mind?
Most likely its a simple structure akin to a hunting cabin or forest service cabin. Rustic and minimal in nature, these structures are well loved because they provide a lot of value for their material worth. However there are other variations of off-grid living that don't sacrifice modern comforts. The lights have been turned on, so to speak, with renewable energy and propane generators.
Still there are challenges to living off-grid in Wyoming, some weather related while others are specific to county level regulations. We examined these below plus some options you have for energy, water and heating your off-grid home. We also collected a few open land listings perfect for building an off-grid cabin near Yellowstone.
As always, we recommend contacting your county's planning and zoning office for relevant information as regulations may change or vary from county to county. What we provide here is purely for informational purposes only and we strongly advise doing your own research.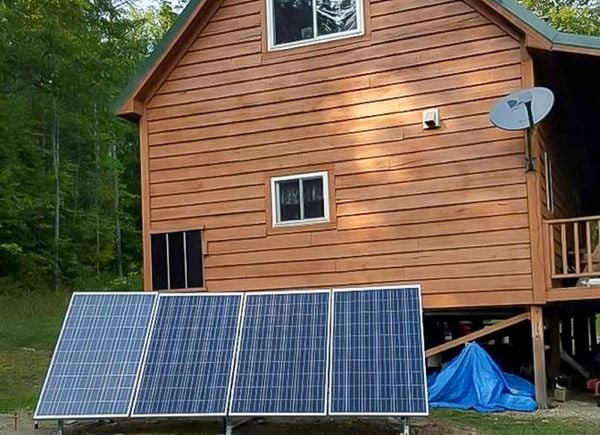 ---
Read Ahead:     What Is Off-Grid Living?
What You Might Need In Wyoming For Off-Grid Living
Energy | Potable Water | Heating | Land | Waste
Building Your Off-Grid Cabin Near Yellowstone
---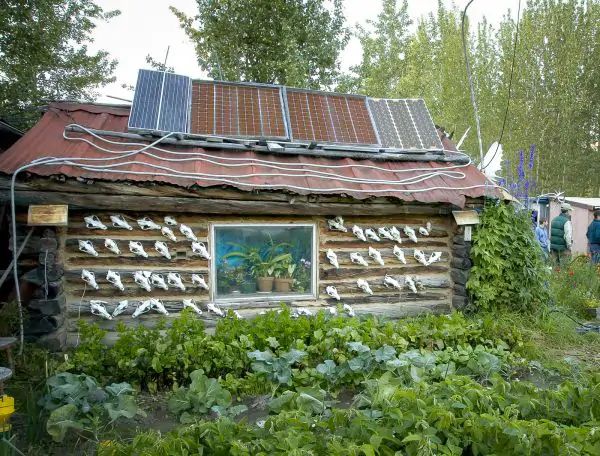 Credit: Steve Hillebrand, U.S. FWS

What Is Off-Grid Living?
Living "off the grid" refers to living in a self-sustaining manner without reliance on utilities. As you can imagine, this is interpreted differently from person to person. Disconnecting from electric utilities and sourcing it by other means is one way to live off-the-grid. And there are many reasons why so many are drawn to off-grid life. For practical purposes, an off-grid home provides a solution to a property that doesn't have utility access. Owning a home not connected to the power grid can also provide peace of mind to homeowners. After seeing a statewide power failure cause havoc in Texas recently, it's not hard to understand why. Most of us are just not prepared to live without the public utilities we take for granted.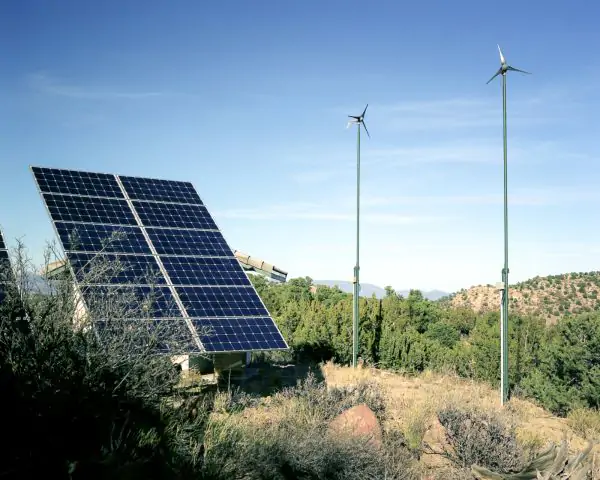 Credit: Warren Gretz / NREL
What You Might Need In Wyoming For Off-Grid Living
Energy
Off-grid power can be expensive. Sure Wyoming has tax incentives that can save you money but you should weigh the costs of installation and maintenance studiously before planning your build. These costs run high and are not necessarily cheaper than public utilities. A seasonal structure like a hunting cabin might not need more than a small propane tank and portable solar panels. But if your home is larger or occupied year round, you'll need heftier energy sources. Many off-grid homes run on a combination of solar panels, a small windmill, and a propane generator. With a battery bank to store energy, this system is reliable regardless of the weather or season. Here is one example of an off-grid power system in northern Canada. There are lots of variations of off-grid power systems so consider other options and your location/climate when planning your own.
Potable Water
If the property already has a well, great! But if not, you may end up drilling for one and it will be costly while not always successful. You also may be able to use an aquifer depending on the area. Some locations may not have accessible water at all and will require regular water hauling and storing in a cistern. Potable water is an important resource not to overlook so don't gloss over this detail when planning your off-grid home location.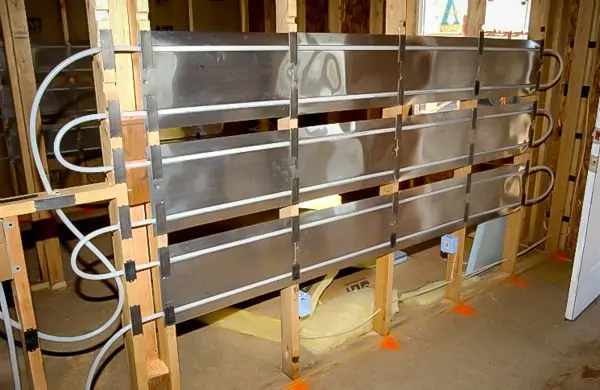 In-wall radiant heat system | Credit: Warren Gretz / NREL
 Heating
A wood-fired stove to provide warmth is the old standby but it requires a lot of wood chopping and hauling throughout the years. You can supplement a wood stove with propane or solar energy pretty efficiently with baseboard heating or radiant heating. Hydronic radiant heat systems can be very energy efficient and use a wide variety of energy sources including standard gas- or oil-fired boilers, wood-fired boilers, solar water heaters, or in combination.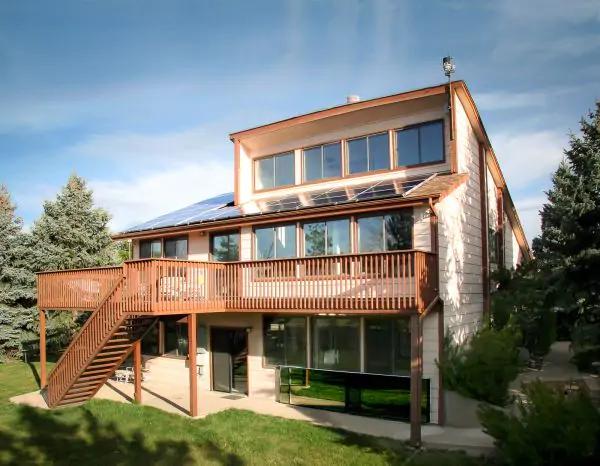 Passive solar design use with solar photo-voltaic panels and a weather station
Credit: John Avenson/NREL
Before turning on the heat, you'll want to make sure your home is as energy efficient as possible. Insulating and draft-proofing are easy ways to cut heating costs. You can go even further by incorporating materials with thermal mass and passive solar design in your home plans, which will help maintain comfortable temperatures throughout the day.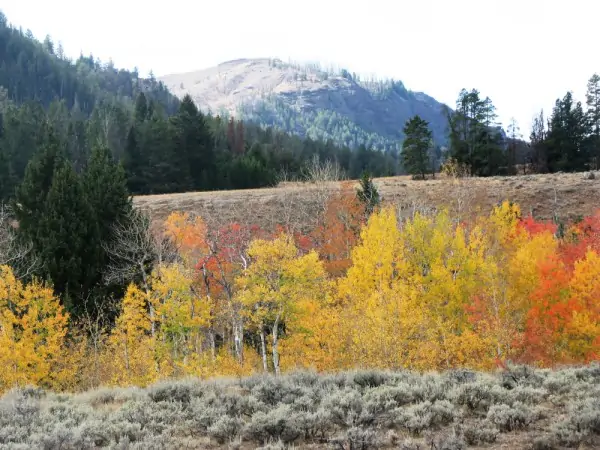 Land
Before building your home you will need to purchase land that will sustain your desired lifestyle. Look at acreage and terrain closely because they will determine what you are able to do on your property. Land features such as wooded areas or pastures may be important to you, and the same goes for soil quality too. Consider altitude, sun exposure, and steep grades - how do they affect your goals for the property? Working with a realtor who is well versed in land deals can certainly help you find what you need.
Waste
There are multiple options for wastewater treatment each with their own limitations, be it soil permeability or county inspections. Conventional septic systems are a good self-contained treatment solution. If septic is not an option you can contact your county's planning office for other solutions.
---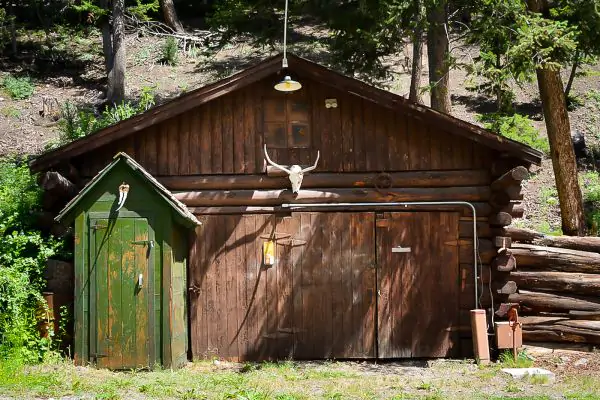 Absaroka Mountain Lodge Outside Of Yellowstone
About Wyoming Off Grid Laws
State laws and permitting regulations will define what you can do to make your home off-grid. Laws will vary based on what kind of home it is - RV, cabin, or tiny home - and whether this will be your primary residence. If you plan on having financing from the bank, check in advance what your loan options are. This due diligence is important when planning your off-grid home and especially so if it will be your primary residence.

A good place to start is your county's planning and zoning office website. From there you can usually find specific answers on water rights, utilities, and wastewater systems but you can always call them for more direct guidance:

Planning And Zoning Office For Park County
Planning And Zoning Office For Big Horn County
---
Off-grid homes come in many forms and they all present their own challenges. A minimal cabin without running water or energy sources prescribes a life of manual labor just to keep warm. Whereas a home with combined power, heating, and water sources will need careful monitoring and maintenance. Becoming self-reliant will take some sweat equity and extensive planning but it can be very rewarding. Fortunately, you no longer have to give up all the modern amenities to do so!
---
Interested In Building An Off-Grid Cabin Near Yellowstone?
Check out these home sites we have for sale - most have options for public utilities, septic, or a well:
Cody Country Building Lots
Cody Wyoming Lot For Sale
Building Lot For Sale In Cody Northfork
If you haven't found the right real estate you're looking for feel free to contact us about how we can assist you in your search.
---
Read Related Articles:
Mistakes To Avoid When Buying Land In Wyoming
Tax Benefits Of Living In Wyoming
---