Camp while you can
Sep
13
2023
FALL AND WINTER CAMPING
The Shoshone National Forest, was set aside on March 30, 1891, by President Benjamin Harrison, as the Yellowstone Park Timberland Reserve. It is America's first National Forest and holds a bounty of beauty. So many activities to enjoy including just a scenic drive and picnic.
Scenic Drives

But if you are a camper, your season is just about over with campgrounds closing end of September except for one, Elk Fork.
Also, there are some FEE FREE days coming up for most day use sites:
• National Public Lands Day: Sept. 23, 2023
• Veterans Day: Nov. 11, 2023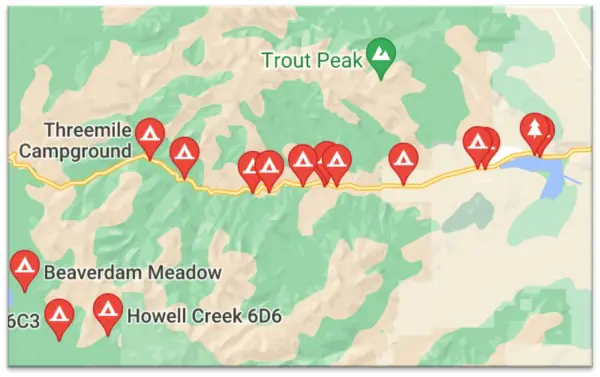 North Fork Hwy. between Cody and The East Entrance to YNP
Courtesy of Google Maps

CAMPGROUNDS CLOSING END OF SEPTEMBER
There are numerous places to camp between the approximate 50 miles from Cody to Yellowstone National Park in the Shoshone National Forest. Here are a few links to get you started if you choose to camp before the end of September. Some ALLOW tent camping but be aware that bears are hungry getting ready for winter so a tent is not the best choice.
Shoshone USFS MAPS 6 Superb Campgrounds
Fall has begun so now is a perfect time to enjoy some cool temperatures and fall colors.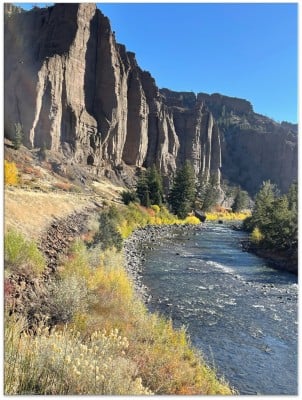 Photo courtesy of Robyn Rogers


Always keep food closed up and not loose in your camp area no matter what. It's important to place your food in the container provided that can be secured but even in those, seal up all food items the best that you can or you may turn around to find a bear trying to get into it. Nothing like walking back from the vault toilet to see a bear which is a reminder to take your bear spray with you even to the toilet and short walks within the campground. If weather conditions don't allow fires there should be a notice clearly visible and do remember to put out your fire with water prior to bedtime.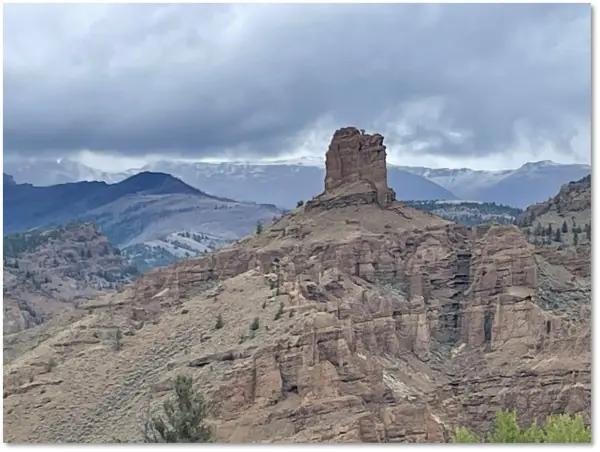 Photo courtesy of Robyn Rogers

Most of the campgrounds are first come first serve and are $10 - $15 a night although there is the benefit of a senior discount. Having cash seems to be the easiest.
There isn't a camp host in every campground but someone comes through to check from either the Forest Service or a host from another campground. They keep the vault toilets and grounds clean and expect you to do the same.
Here's the Wapiti Ranger District in Cody telephone number, 307.527.6921, if you need to call ahead for information or need an emergency number to give to family. Cell phones typically don't work unless you are on a hike and get to high ground in just the right spot.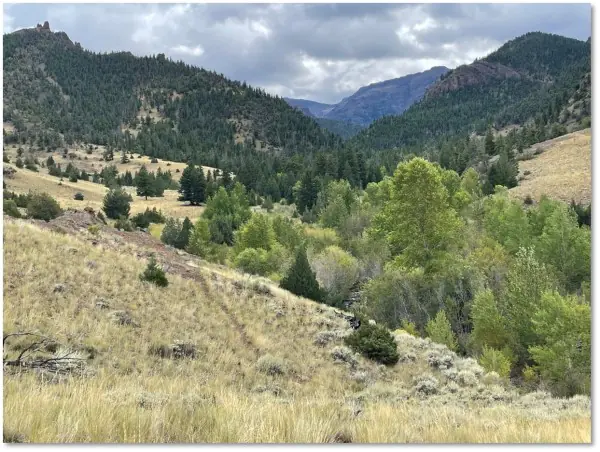 Photo courtesy of Robyn Rogers
If you have a dog just keep your pet on a leash and remember that some dogs freak at the smell of bears and could try to run toward them before turning around and running back to you bringing a bear along with them, or a moose, or an elk. All are fast runners. If you plan to go fishing check the seasonal information and have the appropriate license and conservation stamp.

ELK FORK CAMPGROUND
Reserve site
This is the campground open year-round. Sixteen days is your stay limit with no water other than the beautiful creek that runs along the side of the campground. There are several creeks that feed into Elk Fork Creek which stays at a nice flow all season. In the winter you can easily walk through it. It's a chilly creek all year long.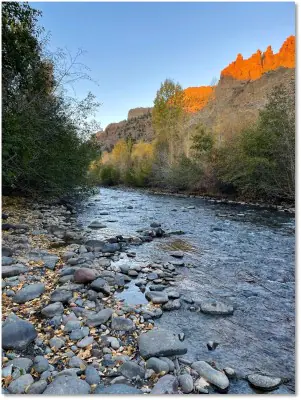 Photo courtesy of Robyn Rogers

Elk Fork Campground has vault toilets, fire pits, and food storage. There are 13 camp sites that are close together with trees and some under growth in between. There are horse corrals at the end of the site with parking there, at the trailhead.
Be aware that in both the winter and spring the dirt road can be ice covered or muddy. As long as you are prepared for weather and what nature can offer on any given day, this is a wonderful place to camp year-round. There are numerous studies showing the importance of nature for our mental health, so pack up and get out there.