Canyon Real Estate Company Information
Visit our New Wyoming Real Estate News Blog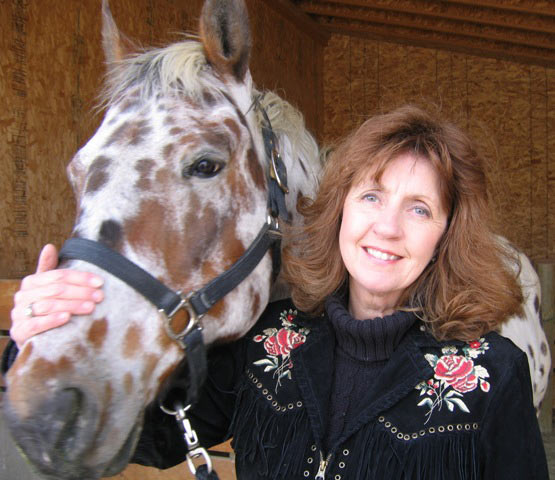 Rita Lovell
Broker/Owner
More about Rita
Contact Rita
John Mills
Associate Broker
More about John
Contact John
Rita Lovell

Rita Lovell is dedicated to providing you with quality western home town service. Whether you are looking for vacant land, residential property, Wyoming real estate, ranches and farms for sale, Wyoming houses, or commercial property, Rita is accessible 7 days a week to answer your questions and to meet your real estate goals. Many of her first clients are her neighbors and friends.

Rita is the mother of 2 sons, Robert, a medical doctor and David, a licensed mental health counselor.
As member of the National Appaloosa Horse Club, Rita has covered 900 miles of Chief Joseph's famous historical 1300 mile trail on horseback.
Member of Park County Board of Realtors and Multiple Listing Service.
Member of Wyoming Association of Realtors.
Member of National Association of Realtors.
Licensed in Wyoming and Montana.
Hobbies are gardening and my horses and riding throughout the magnificent Yellowstone Country of Wyoming.
John Mills

John Mills started in Real Estate in Northern California in 1975. He is licensed in Wyoming and California. He is experienced in Residential, Commercial, and Farm and Ranch properties.

John owned his own real estate office for 12 years and farmed for 30 years. He also owned his own hunting property for twenty years and provides guides hunts. Some of the things he enjoys doing are hunting, fishing and horseback riding.
WYOMING...

YOU KNOW YOU'RE IN WYOMING IF...

The wind is faster than your pickup.
If you leave your keys in your car and the car is still there in the morning.
If the elevation usually exceeds the population.
If you're on the shoulder of the highway with your hood up & somebody stops to help you.
If you can pay for 6 Big Macs with a personal check.
If there are more antelope than people.
If there is a bison in your lane.
If you only paid $8 to cut your own 10 ft. Douglas Fir christmas tree.
If you see numerous chauffeur-driven dogs.
If people drive 100 miles to shop in a real mall.
If the stars brilliantly light up the skies at night.
If the grandeur of the mountains looms majestically over the sage covered prairies.
Then you know you're in big wonderful Wyoming!
If you would like to receive a free Real Estate Guide of the area listings
and a packet of area information, contact me at
info@canyonrealestate.net
We are located in downtown Cody, Wyoming. Turn South at the Historic Irma Hotel on 12th Street and we are the Burgundy awning on the left side of the road before you get to Beck Avenue. Come on by, we would love to meet you!. Remember us for Wyoming houses, Wyoming real estate ranches, commercial properties and vacant land.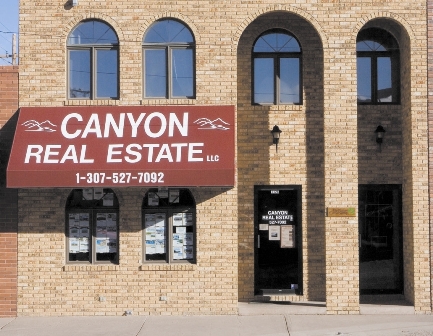 Four Seasons of the Great Northwest Territories

Winter

Spring

Cody, Wyoming winters are mild in comparative snow fall. The temperature does get cold and the wind has been known to blow for a few days. Yet the wild life comes down from the high country and the lifestyle is of tranquil splendor. Winter sports are abundant here and surrounding areas hold snow in higher elevations for most of the year.
Spring is a time of renewal as locals begin to prepare for the cowboy season when livestock runs wild in the streets of downtown and the festivals begin another year of fun in the wild west. The rivers run wild with trout by mid June even the most inexperienced fisherman can snag a big catch! With trails to ride your horses and ATV's on, there are unlimited possibilities for the outdoorsman.

Summer

Fall

Cody's summer time is full of nightly rodeos, river running and camping all over the yellowstone area. We are very proud of our culture here. The fine arts galleries in this area represent some of the most talented American artists of Western lore and lifestyle. It is truly the American Wild West life like nowhere else. Come see for yourself.
Fall is the prime hunting season when outfitting and big game are at their peak. With National Forest and BLM land available, it is the perfect spot to get the trophy you have always dreamed about. Take a leisurely drive and see all of the changing colors of the majestic mountains.